UPFRONT with Tyler Lepley, Eugene Russell IV plus Calabria Foti & Bob McChesney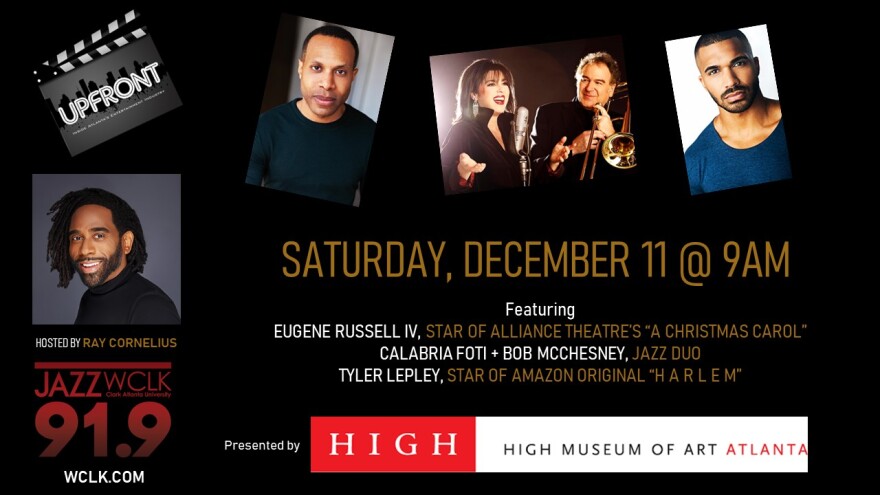 This week's edition of UPFRONT Inside the Entertainment Industry features triple threat performer Eugene Russell IV, Harlem star Tyler Lepley and jazz duo Calabria Foti and Bob McChesney.
The Alliance Theater's holiday classic, A Christmas Carol is back with a reimagined set, costumes, music and more. Accomplished singer, TV, film and stage actor Eugene Russell is here to talk about starring in the show, returning to live shows and his favorite holiday traditions.
The Rialto Center for the Arts presents husband-and-wife team Calabria Foti and Bob McChesney this evening for one dynamic show of holiday music and jazz. Both have performed on stages around the world and have appeared on soundtracks for movies and television. CLICK HERE for tickets and more information.
Closing out the show is my exclusive conversation with former Haves and Have Nots actor Tyler Lepley. The TV and film star is back in an all-new series for Amazon Prime titled Harlem. It features Meagan Good, Shoniqua Shandai, Jerrie Johnson and Grace Byers. Tyler stopped by to chat about his role, season two of P-Valley and much more.
UPFRONT is produced and hosted by Ray Cornelius and is recorded from the campus of Clark Atlanta University.