February 17: Vijay Iyer Coming To Ferst Center * Talks About It On Jazz Tones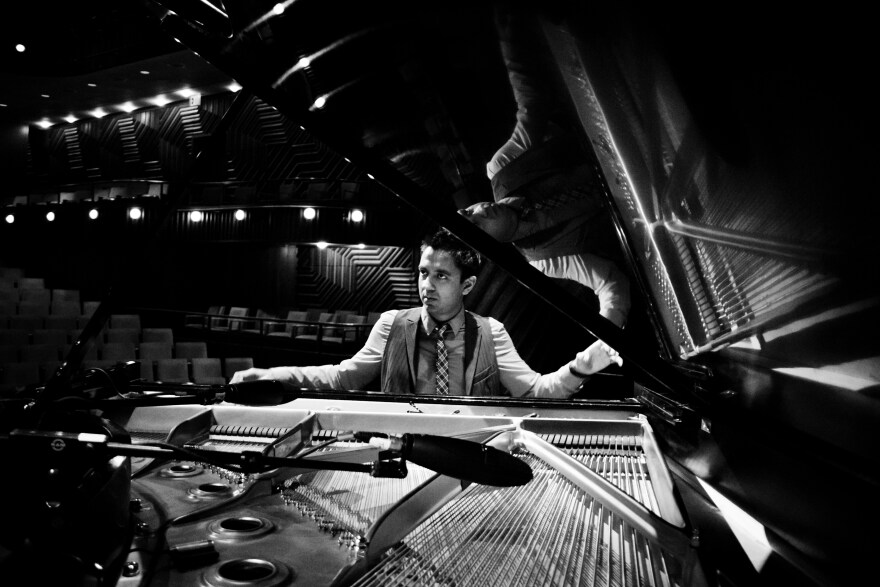 Sunday, February 12 on Jazz Tones on Jazz 91.9 WCLK between 3:00 p.m. and 7:00 p.m., I'll talk with Grammy-nominated Composer-Pianist, Vijay Iyer. He will be performing with his trio as part of the Arts At Tech program at the Robert Ferst Center on the Georgia Tech campus on Friday, February 17.
Iyer's Trio consists of himself on piano, Tyshawn Sorels on drums and Stephan Crump on bass. Iyer has been voted The Downbeat Magazine Artist Of The Year three times, and he is a MacArthur Fellow and a former Doris Duke performing artist. Iyer was recently appointed as the Franklin D. and Florence Rosenblatt Professor of the Arts in the Department of Music at Harvard University. His recent ECM release A Cosmic Rhythm With Each Stroke is a collaboration with long time colleague Wadada Leo Smith that the Los Angeles Times called "haunting, meditative and transportive." Iyer's 2013 collaboration with poet Mike Ladd , Holding It Down : The Veterans Dream Project was based on the dreams of veterans of color from America's wars Iraq and Afghanistan and was hailed the number 1 Jazz Album of the year by the Los Angeles Times. Vijay Iyer's have extended well beyond his recordings through composer commissions such as his collaboration with Yo Yo Ma and the Silk Road Ensemble on Playlist for a Extreme Occasion in 2012. I will be hosting this compelling Jazz event at the Robert Ferst Center. I hope to see you there. Ticket information for this performance is available here.